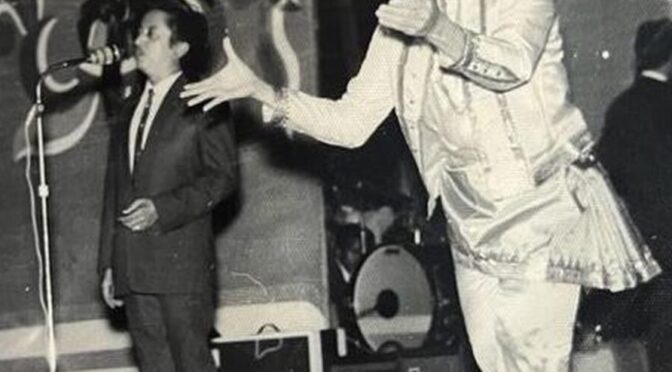 Between 1961 and 1964, Kelana Ria recorded 48 songs that were spread over four records, Kafilah, Yam El Shamah, Ya Mahmud and Ya Hamidah, which became the primary sources for this compilation.
In the early 1960s, two of the best talents in the Indonesian music scene, songwriter and band leader Adi Karso, known for his hits Papaya Cha-Cha-Cha and Balonku and Gambus musician Munif Bahasuan teamed up to form Orkes Melayu (Malay Orchestra) Kelana Ria. These four recordings changed the trajectory of Indonesian popular music. Remastered audio, 14 page booklet with extensive liner notes from Pittsburgh University Professor of Music Andrew N. Weintraub will be released on Elevation this month.
Play Renungkanlah (Think About It), included in this compilation, a love song with heavenly melodies and lilting harmonies, to an audience in the Western part of Malaysia or people of Malay ethnicity in Singapore and they would immediately hum along to the tune. Renungkanlah has been covered by many countless other musicians in Indonesia and Malaysia and it has become a hit many times over. The song has become a go-to song in karaoke bars in the region, with fans oblivious to who actually wrote this song or who performed it the first time. Or take the song Ratapan Anak Tiri (Lament of a Stepchild), a song that has traversed national boundaries and has become a universal sad song in the Malay world, turning into a shorthand for melancholia that permeates this archipelago of nations. Another stunner is the melancholia-laden Kesunyian Jiwa (Silence of the Soul), an operatic tune so majestic that it could open any black and white Kurosawa film from the late 1940s.
The songs and the soulful vocal performance belong to Muhamad Mashabi, who despite the popularity of the songs he created is now largely forgotten, whose history was kept alive only in the neighborhood where he grew up in Central Jakarta. With only a short musical career and only nine recorded songs from almost 40 compositions, Mashabi fell by the wayside in the early 1970s, especially with the rise of pop and rock from bands like Koes Plus, Panbers and God Bless. Yet his songs, inspired by Malay traditional songs but performed in the modern studio setting, lay the foundations for what would become the biggest musical genre in the country, dangdut, especially the kind that was popularized by the self-styled king of the genre, Rhoma Irama.
TRACKLIST
A1. Kesunyian Jiwa (Emptiness of Soul)
A2. Untuk Bungamu (For Your Flower)
A3. Harapan Hampa (Empty Hope)
A4. Ratapan Anak Tiri (Wailing of Adopted Child)
A5. Djangan Menggoda (Don't Tease)
A6. Hilang Tak Berkesan (Gone Without A Trace)
A7. Pantun Nasehat (Words of Wisdom)
B1. Renungkanlah (Think About It)
B2. Penggoda Djiwa (Seducer of Soul)
B3. Peristiwa Lama (Past Incidence)
B4. Tudjuan Bersama (Common Goal)
B5. Djangan Mengharap (Don't Hold Out Hope)
B6. Pesta Tjahaja (Party of Light)
B7. Seloka Gembira (Poetry of Joy)
Elevation will release Kafilah Nights: Malay-Arabic Variations From 1960s Indonesia on November 24, 2023