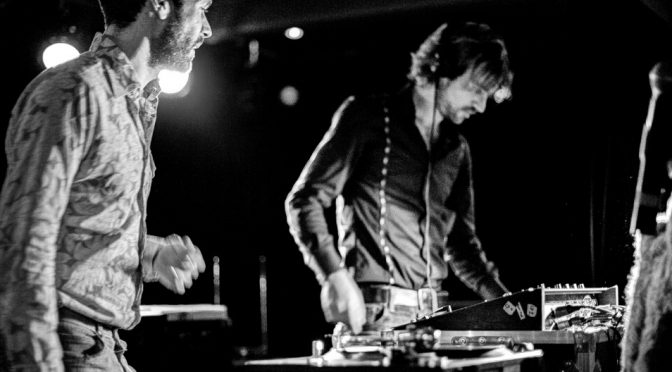 It's rare to find an album that is a true outlier in its field, but Abdou El Omari's seven-track debut, released forty years ago on the Moroccan label Disques Gam, can be considered as such. A rare and intriguing record, seen fleetingly on Discogs with it's vivid pink sleeve, atypical for an album of it's age and origin; it immediately evokes excitement in the mind of any collector, especially given it's price tag (well in excess of €1,000 for an original pressing).
Musically, it is like nothing that was being made in Casablanca at the time. Though present are the byzantine scales of traditional Moroccan and Andalusian music, the funk-influenced grooves, gravelly bass, delay-drenched percussion and pyschedelic lead organ, separate the music entirely from traditions of the region. One can only wonder what music Abdou El Omari was hearing at the time and how it influenced his craft. Little information is currently available about the late visionary musician, escalating the lure of his recordings.
Lifelong fans of Tropical and Oriental music, Belgian DJ collective and record label Radio Martiko have made their name playing the widest range of vintage dance music imaginable, taking their unique sound beyond the clubs of Ghent, to places far flung as the communities that created the music they love. Now the trio have answered the prayers of collectors worldwide, not only restoring and re-issuing Abdou El Omari's debut album, but gaining access to two additional projects, hitherto unknown among Abdou El Omari fans.
With the album now available, we had the pleasure of talking to the Martiko's about the origins of their work, their discovery of the Disques Gam catalogue and the fascinating process behind restoring and re-issuing vintage recordings. You can check the interview here and stream the album below
Abdou El Omari Nuits-trilogy LP#1 is out now, with LP#2 and LP#3 on February 13th, 2017 and April 14th, 2017, respectively