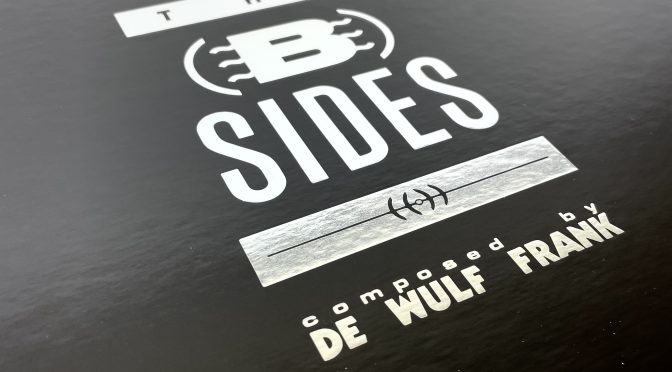 Music Man presents the ultimate compilation of the seminal B-Sides project by Frank De Wulf, originally released on the label in 1990. He is considered one of the pioneers of the Belgian new beat and techno scene, and also became a driving force in the European techno circuit of the nineties.
While still at school in the mid-eighties he already ran his own radio show while keeping two residencies in Ghent. He soon started to produce his own tracks and remixes, inspired by the rising new beat movement in Belgium. One of his first releases was Acid Rock under his Rhythm Device moniker on Music Man, which instantly became an underground hit at famous night club Boccaccio – one of the Belgian clubs where new beat really took off – and over the years developed into one of the classics of the first European dance wave.
Frank De Wulf's real breakthrough came with the infamous B-Sides 12″ series on Music Man Records. All four volumes charted in several European countries becoming a firm favourite among leading techno DJs worldwide. As a result of this success Frank traveled the world as a DJ and live act, playing all major raves and clubs at the time, meeting like-minded techno pioneers like Derrick May, Joey Beltram or Sven Väth as well as R&S Records founder Renaat Vandepapeliere, whose energy and strong belief in the success of quality dance music had a major influence on Frank's career.
The list of artists he was asked to remix is an impressive one, including names such as Model 500, The Orb, The Shamen, Orbital, Jam & Spoon, N-Joi or Biosphere, just to name a few. Frank later released a great body of work on his own labels H.P.F., Mikki House, Tribal Sun or Growth in order to gain more creative freedom to release his tracks and do production work for other artists. At the end of the nineties Frank decided to concentrate on another great love of his: the world of film and post-production. He founded GRID, a post-production company specialised in visual effects and motion design, while still doing the odd remix or occasional DJ set.
This box set includes all music originally released on The B-Sides volume I, II, III, IV, 'The B Sides Remixed' & 'Beyond The B-Sides', pressed onto 4 x 180 grams heavy weight vinyl records including a 8-page booklet with liner notes.
Limited to 500 numbered copies.
TRACKLIST
A1. Frank De Wulf – Compression
A2. Frank De Wulf – Reforced
A3. Frank De Wulf – Just Another Beat
B1. Frank De Wulf – There Ain't Nobody
B2. Frank De Wulf – Electrain
B3. Frank De Wulf – Compression (Remix)
C1. Frank De Wulf – Magic Orchestra
C2. Frank De Wulf – Freestyle 909
C3. Frank De Wulf – Magic Orchestra (CJ Bolland Remix)
D1. Frank De Wulf – Latino
D2. Frank De Wulf – The Heat of The Moment
D3. Frank De Wulf – Butterfly
E1. Frank De Wulf – The Tape (Remix)
E2. Frank De Wulf – The Darkness Revisited
E3. Frank De Wulf – Foreign Trips
F1. Frank De Wulf – Orbital Ways
F2. Frank De Wulf – The Original
F3. Frank De Wulf – The Tape
G1. Frank De Wulf – Moribund
G2. Frank De Wulf – Imagination
G3. Frank De Wulf – Raise
H1. Frank De Wulf – Traffic
H2. Frank De Wulf – Moral Soundabuse
H3. Frank De Wulf – I Love You
Music Man will release B-sides on May 19, 2023.