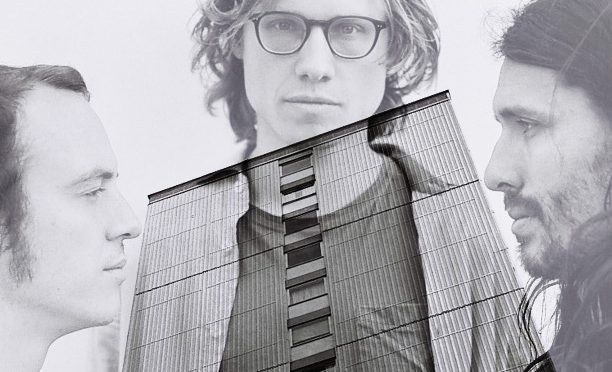 2017 saw full-length releases from STUFF., De Beren Gieren, Black Flower, SCHNTZL, all of them acts that consider jazz as a state of mind rather than a genre.
"Belgian jazz is flourishing thanks to a rich and adventurous new wave."
(Jazzism)
In the space between expectation and surprise, you will find Dutch-Belgian acoustic-electronic piano trio de beren gieren (The Bear Vultures), providing robust evidence that gold can still be mined from the union of piano, bass and drums. Based on the compositions of pianist Fulco Ottervanger, the trio use the power of improvisation on the quest for a new form and create a multi-layered, kaleidoscopic work of art. de beren gieren are Fulco Ottervanger (piano), Lieven Van Pée (bass) and Simon Segers (drums).
'We Dug Out Skyscrapers is taken from the album 'Dug Out Skyscrapers'. Out now on Sdban Ultra.
As an undeniable part of the Pitchfork generation: highly skilled musicians with a large degree of openness – Black Flower strives for original music and deliveres a vibrant, hypnotic and variously entertaining musical mix of Ethio jazz, afrobeat, oriental and dub, bending all purist rules to good effect and claiming to the age-old human ritual of dancing! Black Flower are Nathan Daems (alto & baritone sax), Jon Birdsong (cornet, alto horn, percussion), Wouter Haest (keys), Simon Segers (drums), Filip Vandebril (bass).
'Lunar Eclipse' is taken from the album Artifacts. Out now on Sdban Ultra.
STUFF.—a 5-piece instrumental band comprised of Andrew Claes (sax), Lander Gyselinck (drums), Joris Caluwaerts (keyboards), Dries Laheye (bass), and Mixmonster Menno (turntables)—are one of Belgium's most promising acts. Their music is a coss-genre fusion of broken hip-hop, electronica, and jazz-influenced funk that has won them fans in, among others, Plaid, Kev Beadle, Kutmah, Lefto, and Gilles Peterson.
'Stratra' is taken from 'Old Dreams New Planets'. Out now on Sdban Ultra.
SCHNTZL is a jazz duo comprised of Hendrik Lasure (pianist), and Casper Van De Velde (drums). In February 2015 they won the STORM! contest for young upcoming musical talent, which earned them a cd release on the W.E.R.F. label and a JazzLab tour in 2016. Last summer, they acquired the prizes for best composition and best instrumentalist as well, as the Tremplin Jazz d'Avignon Contest. Their music sees improvisation intertwined with fully arranged compositions.
'Mosa' is taken from the album 'SCHNTZL'. Out now on W.E.R.F.