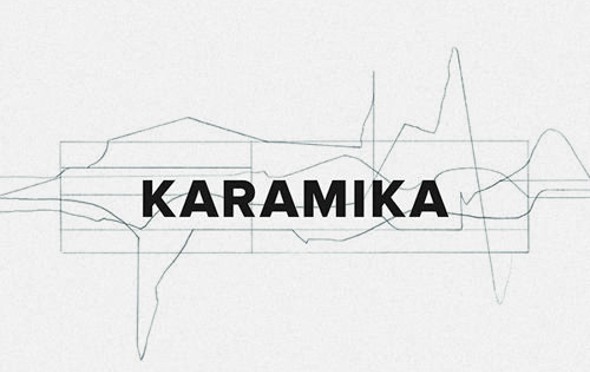 Twelve tracks from a long-distance collaboration by Black Merlin and Musiccargo's Gordon Pohl to drop in June.
Spectral Empire man George Thompson has had a productive few years since emerging as Black Merlin, with releases on Bird Scarer, LN-CC, World Unknown and Crimes Of The Future. Gordon Pohl meanwhile has enjoyed a more long-standing, if decidedly potted career thus far. Starting out with occasional outings as DJ Gordon in the '90s and a contribution to The Isolators for a one-off Viewlexx single in 2006, it has been as one half of Musiccargo that he has enjoyed his most recent activity. Based in Düsseldorf, the majority of the Musiccargo output has appeared on local label Amontillado Music, bar a recent appearance on Emotional Response with the Harmonie LP.
Listening to the samples of the album Thompson and Pohl have pieced together as Karamika, it's definitely possible to hear a little of that Salon Des Amateurs worldly funk worming its way into the expansive instrumentation, while the psychedelic synth lines fall in line with the kosmiche leanings of the Black Merlin sound just as easily. It's a comfortable fit for ESP Institute, who have been taking it steady in 2015 so far with the Mark E single wementioned earlier in the year the only other slab of wax issued before this week, when Nenad Markovic's third and fourth installments in the Mecanica series landed. You can get a feel for the exotic, dense sound of Karamika via the SoundCloud clips below.
ESP Institute will release Karamika by Karamika in late June.