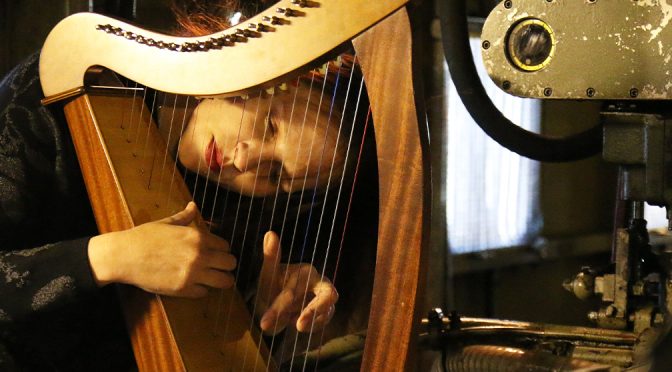 On her debut album Belgian-based multi-instrumentalist Ann Eysermans explores the possibilities of the train as a music instrument.
For the compositions Prelude and Fuga For Four Diesel Locomotives And Harp Eysermans had the chance to capture the sounds of diesel locomotives (HD 51, 54, 55 and 60) of the Belgian Train World Heritage collection. Microscopic hissing vibrations of steaming engines slowly entwine and resonate with fragile harp playing, getting on track for an unconventional sonic rail journey. A melancholic odyssey of sound in motion: Ann Eysermans let the sparkling harp notes dissolve into the tones of pulsating train wheels.
On the B-side she bends her soft singing voice around deranged horn melodies in Le Départ, connect delayed organ harmonies in De Vertraging with the dying frequencies of a trembling and humming locomotive from the 60's, On the key track For Trainspotters Only Ann Eysermans assembles a hauntingly piece of musique concrete with clanging chimes, broken music boxes, ghostly whispers and throbbing machine room sounds. A lonely barking dog and the last train announcement on a desolate platform in Chorale also mark the last part of this spellbinding record.

On For Trainspotters Only Ann Eysermans takes you on an immersive and meandering ride, connecting the dots between the free spirit of Alice Coltrane, the orchestrated field recording compositions of Chris Watson and the magic realism of Claire Rousay
Cortizona will release For Trainspotters only on January 28th, 2022